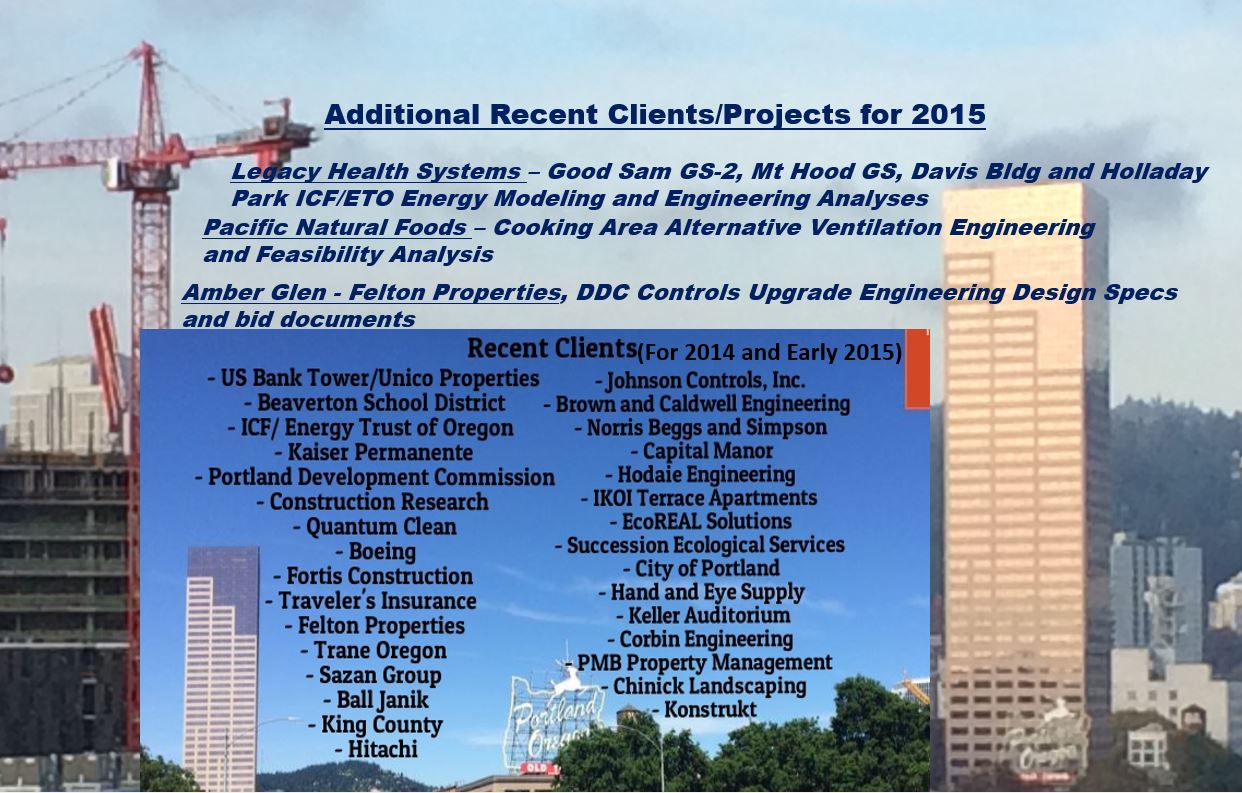 Additional Selected Past Project Work
A few select Energy Trust of Oregon and Oregon Department of Energy - Engineering and Energy Audit/Analysis Projects
Unico/US Bank Tower - Boiler and Steam System Evaluation Building
Legacy Health - Good Sam GS-2 Bldg, Holladay Park Bldg, Davis Bldg and Mt Hood GS-2 Bldgs. Energy Improvement Evaluations
Beaverton School District - Cedar Park Middle School Energy Usage Improvement Evaluation in partnership with Johnson Controls, Inc contracted with me to perform energy auditing and modeling. The project involved data logging for CO2 levels in classrooms as well as larger meeting spaces, and temperatures in classrooms and well as many larger spaces. Infrared imaging analysis as well as an indoor lighting survey, and exterior photo-metrics were performed. Several site visits were made to complete the above surveys, collect data to fill in gaps from the substantial amount of missing information from the facility design documents (old and hard to read), and observe school usage/system operation patterns. Energy+ was the model used for energy simulation and modeling evaluations for certain "dynamic" measures, hand calculations were used for other more "linear" measures. Select amount of BIN analysis was used to verify and adjust some outputs based on observations in the field, which did not seem to match up with the output results from the model.
Noris Beggs and Simpson/Felton Properties - Post ETO process DDC control system engineering development for bid/purchasing processes for four separate buildings.
PMB/SW WA Medical Center - Medical Office Building Energy usage Improvement Evaluation (with ETO and Clark County PUD).
ICF/Energy Trust of Oregon (ETO) – Energy Modeling/auditing work, for a "targeted" DDC upgrade focused energy audit for the Rose City United Methodist Church, plus others in Portland, Oregon for ICF/ETO using Equest. Lead Engineer reviewing the analysis report indicated that this effort for them produced a "high quality report and results".
LEED Projects
Felton Properties
Cascade Building, Succesful "LEED Certification" effort - Developed updated energy analysis/audit , and Energy Star documents/processes in support of the facility LEED certification processes.
400 Building, Successful "LEED Silver Certification" effort - Developed updated energy analysis/audit and Energy Star documents/processes in support of the facility LEED certification processes.
Selected - HVAC FMS/DDC/PLC Building Controls Retrofit Projects and Energy Savings processes
Kaiser Honolulu, Energy Performance contract solicitation and review processes work. The lead contact, Tony Moiso provided the quote included on the home page of this website on what he "knew he would get when working with KFAA".
Fortis Construction, provided technical design/troubleshooting assistance with on the HVAC controls for the systems for Hitachi's new clean room facility in Hillsboro, OR.
Daikin/McQuay Applied Americas, performed AHU sizing, ductwork design, load calculations and energy usage analysis for a retrofit application at a very large retirement home complex's main building, Capital Manor in Salem, OR.
Sazan Group out of Seattle, provided sustainability implementation/tracking support for King County Waste Water Treatment Plant Upgrade projects.
Corbin Engineering performed controls design assistance work at the Boeing Facility in Gresham OR.
Advanced Technology Group and Corbin Engineering provided controls design support for their project's HVAC systems for a new "Quantum Clean" Clean Room Facility in Hillsboro, OR.
IKOI Terrace – provided technical assistance and infrared imaging services on an energy analysis of this low income housing project located in Milwaukie, OR.
AT&T – Oak Street Main Oregon Data Center - Niagara Tridium/BACnet DDC Upgrade6 ,Portland, OR.
PacifiCorp – HQ Data , Operations , and Call Centers - DDC LON-Niagara Tridium Upgrades, Portland, OR.
Kaiser – Outpatient Clinics – DDC BACnet/Niagara TridiumUpgrades, Portland, and Salem OR as well as SW WA locations.
PSU Market Center – Niagara Tridium/LON DDC Replacement project, Portland, OR.
Legacy Emanuel – Complete facility Niagara Tridium/LON DDC Upgrade and New Tridium/LON DDC for the new Children's Hospital, Portland, OR
SW Washington Medical Center – Niagara Tridium/LON DDC Upgrade and new Firstenberg Tower – Vancouver, Washington
Solar World - NW8000-Niagara Tridium/LON DDC Upgrade into GE Simplicity plus PLC Upgrade – Hillsboro, OR
Maxim Semiconductor – Clean Room Expansions – PLC and Tridium/LON DDC upgrades during clean room and overall facility upgrades, Beaverton and Hillsboro, OR
HVAC Retrofit/Energy Upgrade Projects
Kaiser – Outpatient Clinics – Developed design, specifications ,bid documents and assisted with bid processes for numerous boilers, chillers, air handler, and VFD replacements/upgradeson Portland , Salem Oregon and SW WA locations. Performed Retro-Commissioning/Building tuneup services on 12 Medical Office facilities (80k to 120k sqft buildings).
Rogue Valley Mall – Complete HVAC Air Handler/Roof Top replacement effort replacing 16 separate units based on energy efficiency and ETO funding support, (managing ETO incentives and unit replacement services), Medford Oregon.
Willamette View Manor Retirement Community – Meeting rooms and banquet/main eating areas HVAC system replacement and upgrade services including constant volume to variable volume conversion, DDC and VFD additions etc. including managing incentive and design processes. Milwaukie, Oregon.
Renewable Energy Projects
Inn of the 7th Mtn – Largest Geothermal HVAC System in OR - Bend OR, central plant with two heat reclaim chillers, heat xchgrs, boilers, vfds, DDC, 450' supply and re-injection wells, full 4-pipe distribution, fan coils each room, HW xchgrs for dom. HW, pools,spas, AHUs, ice rink heat rejection, role design engr, PM & OPS.
Bonneville Environmental Foundation — Developmentfeasibility study and schematic level design and economic evaluation of an forest wood waste energy generation facility.